Last year protest became the new brunch. Everywhere you looked there was something else to be outraged about. This year is no different, some might say it's even worse, but I wouldn't. I find Twitter, and all the activism around so energizing. It's a good idea to get ahead of the curve. T-shirts that say exactly how you feel are awesome for protests. They make a statement, help your cause get noticed, and get you in the mood. But it doesn't make sense to defend women's rights when you are wearing a t-shirt made by a woman in a developing country who isn't paid a fair wage or treated in a fair manner.
In the next couple of months, there will be March for Our Lives, World Water Day, Earth Day, and Fashion Revolution week. That's not even considering what potential protests could happen. Even though last year seemed like a turning point in the United States, this year political events really seem to be coming to a head worldwide. These 15 tees are all ethically made, some support amazing organizations, and some are made with sustainable materials.
This tee is perfect for Fashion Revolution Week. You can take a picture of the tag and be sure that Bead & Reel will know who made the shirt. It was made with fair trade practices. 100% of the proceeds are donated to their charity partner Fair Trade Fashion Show.
These tops are perfect for any female related protest that should occur.
From #MeToo, #TimesUp and beyond, these shirts show your commitment to gender equality and your belief that now is the time to create change. My Sister supports after-care programs and provides growth opportunities for survivors of sexual exploitation through their consciousness-raising tops and they make them in sweat-shop free facilities.
Spread the word with People Tree's "Equality" tee – in 100% organic certified cotton. They say, "Every day we work to accomplish equality for our producers and partners like Assisi who we teamed up with to create this shirt to promote women's rights."
My Sister teamed up with Amber Tamblyn to support GEMS, Girls Educating and Mentoring. This is the quote from her New York Times op-ed, "I'm Done With Not Being Believed," in where she encourages us to believe women and to raise our own voices to speak out against assault, misogyny, and exploitation.
Everlane has been supporting Equality Now, which has been fighting to promote equal rights for women around the world since 1992, with its 100% Human shirts. For every product sold, they donate $5 to Equality Now. #HumanTogether
This shirt from Peri the Label was made from recycled cotton and polyester specifically for the Women's March.  But la resistance doesn't just happen in January! A portion of the proceeds goes to support Planned Parenthood.
This I LOVE MEL t-shirt is fair trade and made from 100% Organic Cotton. £1.00 from each T-shirt will go to THE GREAT INITIATIVE, a gender equality charity determined to eradicate stereotyping both in the UK and abroad.
These t-shirts are all from Prabal Gurung's latest collection. You might be surprised to learn that he is an advocate for sustainable and ethical fashion. All his collections are manufactured ethically in NYC. These tees are made with a combination of viscose and organic cotton.
The t-shirts benefit different organizations that are often under attack. A portion of proceeds will be donated to American Civil Liberties Union, Planned Parenthood, and Shikshya Foundation Nepal.
Threads for Thought partnered with the International Rescue Committee to put the hashtag #RefugeesWelcome on their t-shirts, to help make sure every single human being that is fleeing violence or persecution is welcomed, accepted, respected, and has the opportunity to regain control of their futures. All proceeds from the T-shirt will go to IRC.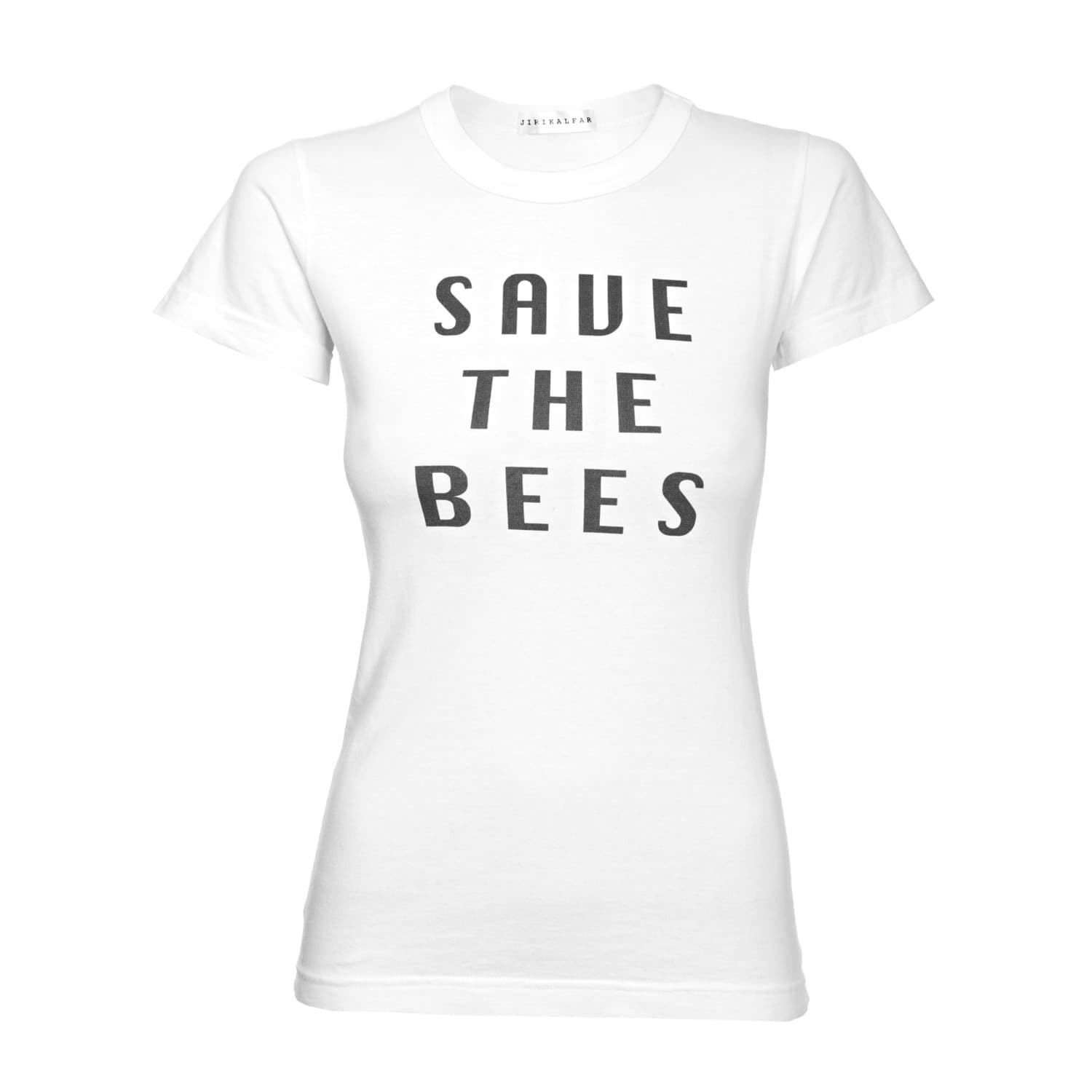 Jiri Kalfar
 is an environmentally motivated sustainable designer, Who makes his clothes in a sustainable production process using natural materials like organic cotton. He used his latest collection to highlight the plight of the bees.
 It's sexy to care. It really is. This tee is from Australian label
Shift to Nature
and is made with GOTS certified organic cotton.